The Challenge
The Seattle-based sparkling beverage brand, Sparkling Ice, wanted to drive volume at a targeted retailer during a key summer drive period. The brand also wanted to better understand in-store shopping behavior and attitudes among these specific shoppers.
Further, the beverage brand wanted to not only drive sales among current non-buyers of the brand, they also wanted the purchase data insights to measure it.
The Experience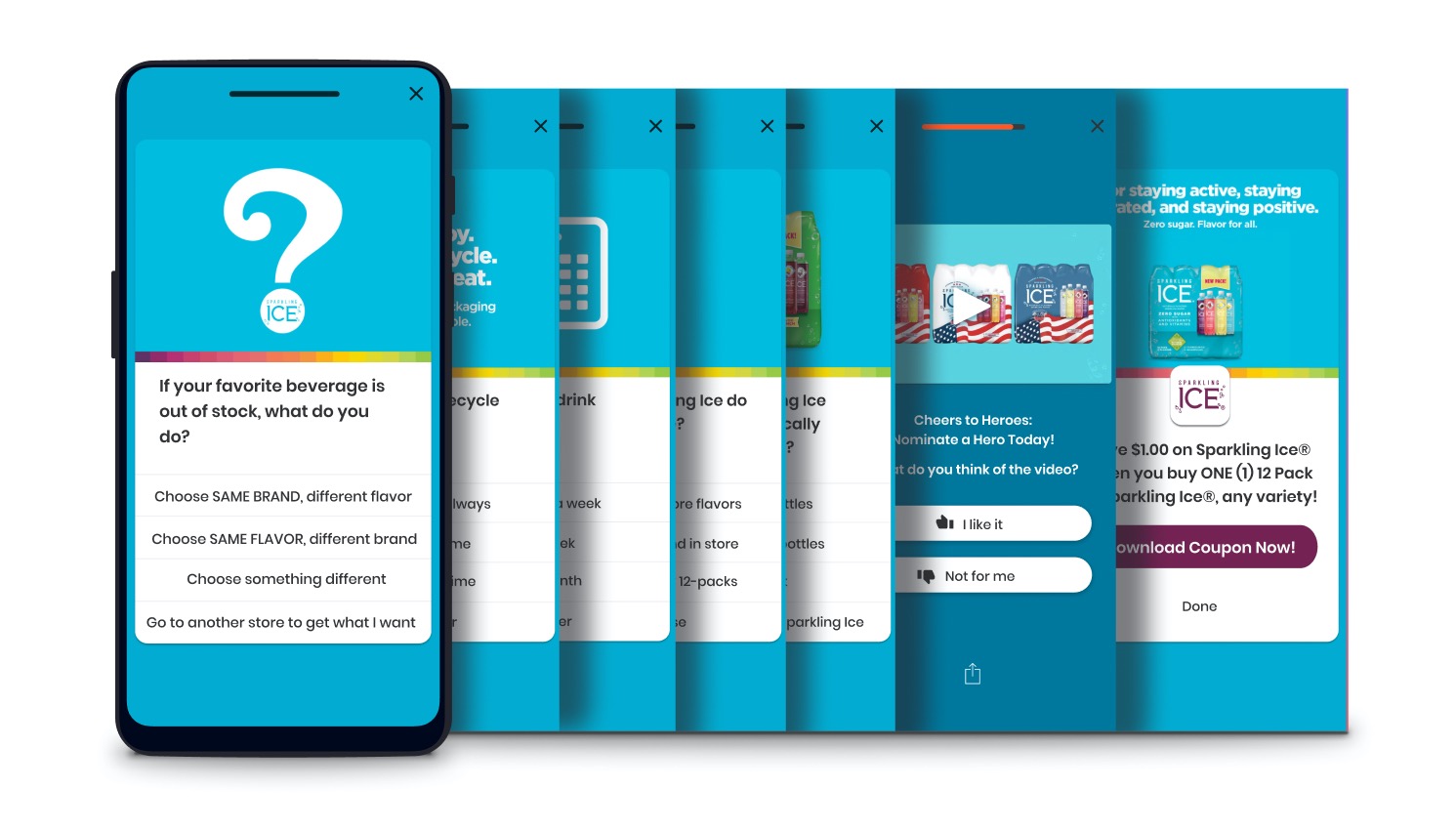 Sparkling Ice launched a Memorial Day-themed brand experience on the Dabbl platform. It was comprised of a series of engaging activities that provoked honest feedback from this target retail shopper market.
The experience also included a 17 second video requesting viewers nominate an everyday hero.
At the completion of the experience, consumers were presented with a compelling savings offer as an incentive to buy. With one click, the savings could be loaded to their retailer loyalty card.
More Info
6 Activities per experience, including Multiple choice, Purchase Intent, and Video activities.
Results
35,000
Brand Experience
Completions
100% Viewability & Completion
210,000
Activity
Completions
Fullscreen Engagements
Avg Time Spent
per Experience
Dabbl Avg 42 sec
ROAS
Return on ad spend during campaign period
Click-thru Rate
Adding digital coupon to loyalty card
Sales From New Buyers
Sales from shoppers at targeted retailer who rarely or never purchase brand previously
+44%
Brand Awareness
Exposed vs Non-exposed
Ad Recall
Exposed vs Non-exposed
+69%
Brand Favorability
Exposed vs Non-exposed
Exposed to Dabbl experience
Non-exposed
Reached Targeted Retailer Audience
The brand experience solely reached loyal shoppers of the targeted retailer.
Spent 61 Seconds of Quality Time
Consumers spent a full minute on average with the Sparkling Ice brand experience. Twice the time spent with a traditional TV commercial, yet with the precise audience of shoppers of their targeted retailer. In an age of blocking and skipping ads and being charged for 2 second digital ad "views", this was a significant amount of engaged, full-screen time.
Drove Sales at 3:1 ROAS at Targeted Retailer
16.1% clicked to add the digital offer directly to their retailer loyalty card.
The campaign drove a 3:1 ROAS return on ad spend at the targeted retailer during the campaign period.
Sparkling Ice wanted even more insights about its sales. Dabbl delivered. The brand was able to discover that the campaign also expanded the brand's customer base. An additional 14.2% of sales at the targeted retailer during the campaign period came from those who rarely or never purchase from the brand.
Gained Insights From SKU-level Sales & Engagement Data
The Sparkling Ice team was able to understand overall sales from all buyers and segment buyers via non-PII purchase history during the campaign period. The brand was also able to uncover further detail into its ability to convert rare- or non-buyers into customers.
Consumer engagement and preference insights as well as brand equity insights were also uncovered.