Looking to boost sales of your manufacturer brands at ShopRite grocery stores? Here are twelve retail media, shopper marketing ideas for ShopRite digital channels that reach millions of shoppers, including their Price Plus Club loyalty members.
We'll dive into how to take advantage of the ShopRite.com website, the ShopRite native mobile app and the ShopRite email channels to boost sales of your manufacturer brands.
Let's dive in!
1. Weekly Circular
For print, on ShopRite.com and the ShopRite Mobile App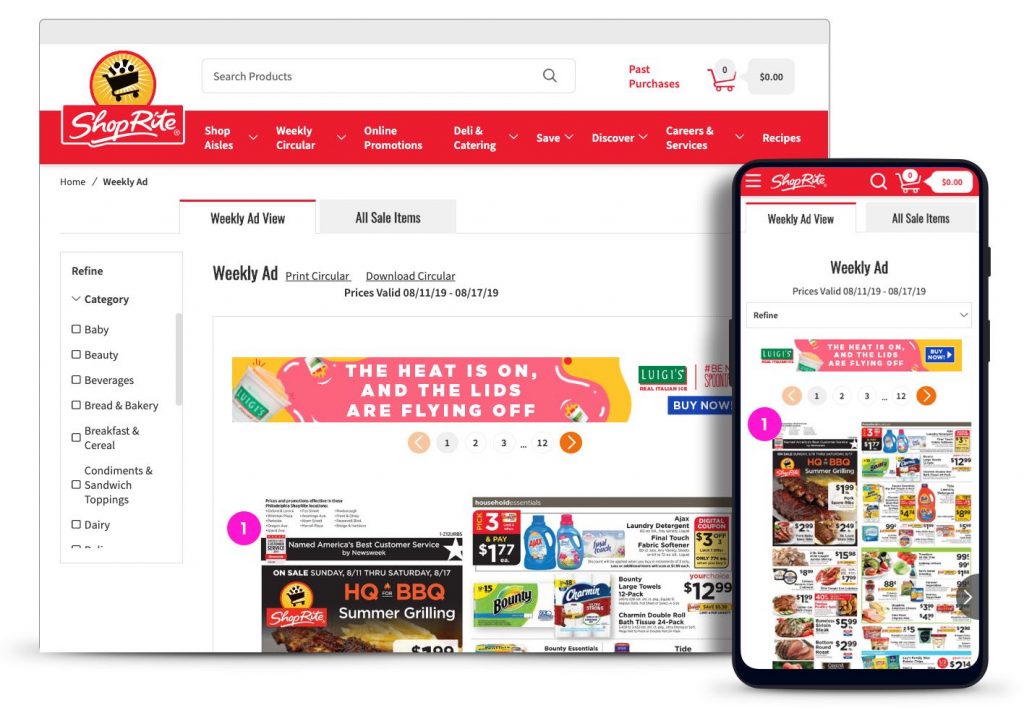 Let's start with a classic ShopRite shopper marketing tool: the weekly circular. But, in addition to the print version, the ShopRite weekly circular is also viewable as digital images on the ShopRite.com responsive (ie, available on desktop and on mobile) website as well as the ShopRite native mobile app.
2. Basic Product Info for Website and App
On ShopRite.com and ShopRite Mobile App
A core first step. Make sure your products have descriptions, images and all the basic info.
3. Enhanced Product Info for Website
On ShopRite.com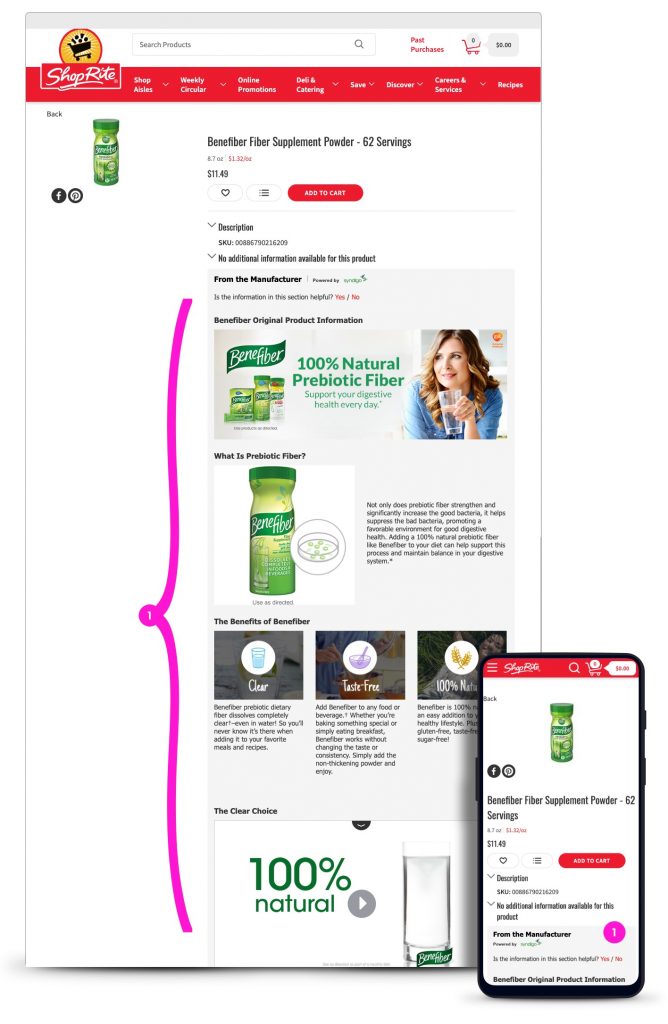 Want a richer product page on the ShopRite.com website? Add imagery, videos, usage tips, and other valuable information to help customers make more informed purchase decisions.
4. Homepage Special Feature Advertising
On ShopRite.com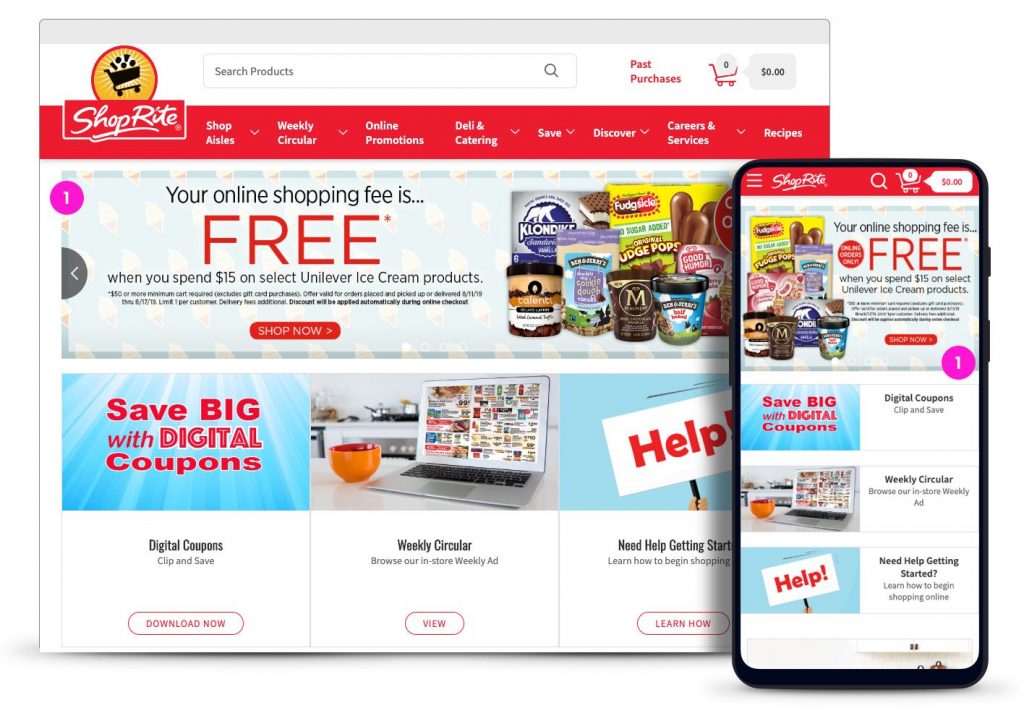 Get prime homepage real estate on ShopRite.com on a per week basis. Content inventory is available on a first come, first serve basis.
5. Category Digital End Cap Advertising
On ShopRite.com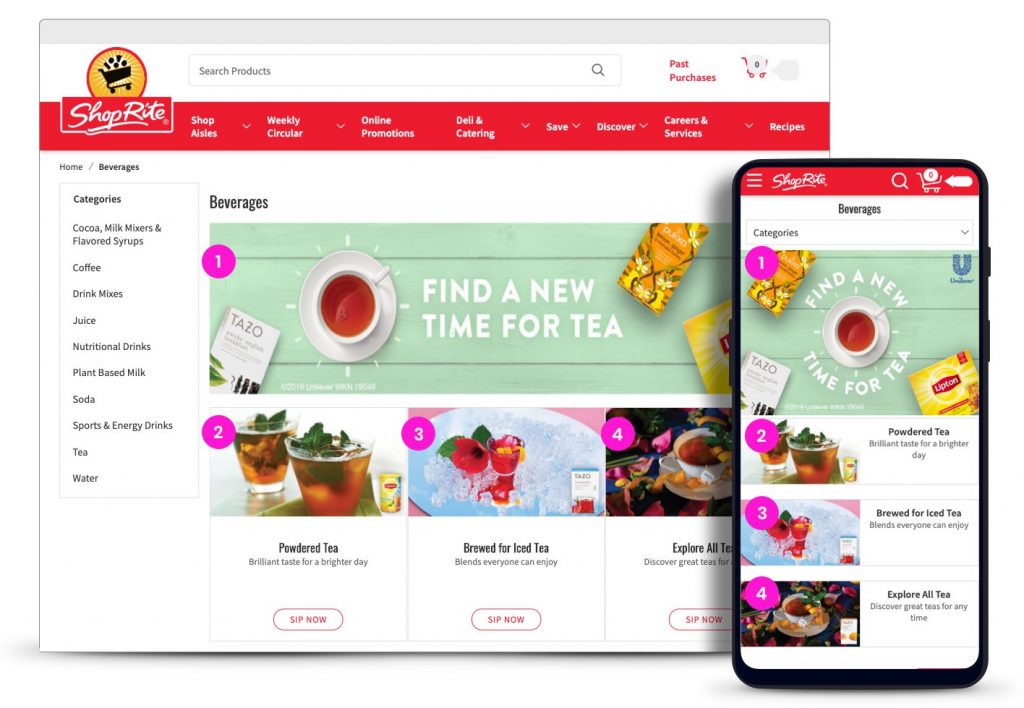 Advertise your brand on ShopRite.com's category pages on a per month basis. Feature your brands on categories such as Beverages, Beauty, Breakfast & Cereal, Frozen, Health & Wellness, Pantry, and Pet.
6. Other Website Banner Ad Placements
On ShopRite.com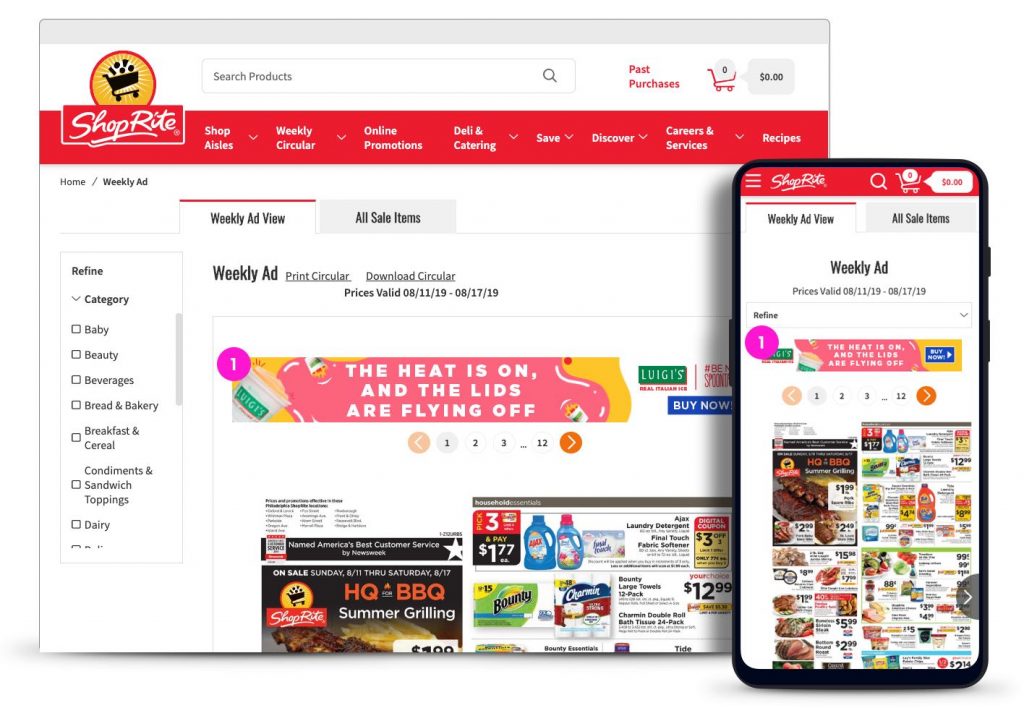 Place your standard-sized banner ads (such as 728×90 banners and 160×600 skyscraper ads) on ShopRite.com pages. Available pages include circular pages, recipe pages, the digital coupon center, ShopRite from Home and within the ShopRite email newsletters.
7. Shoppable Recipes
On ShopRite.com and ShopRite Mobile App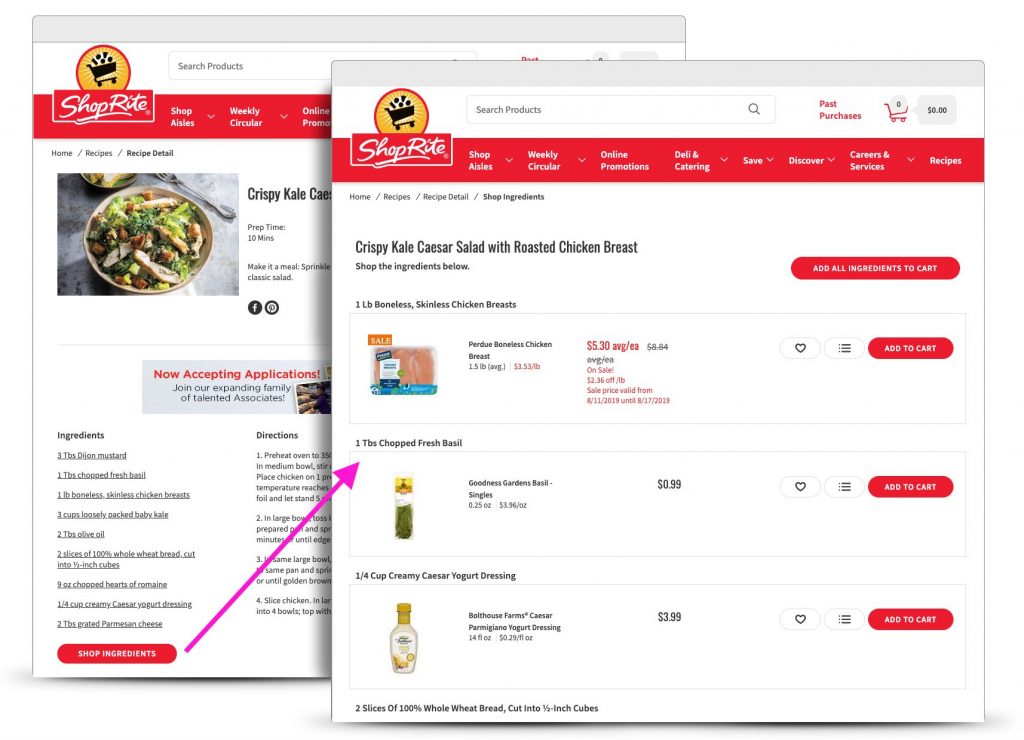 Submit a recipe to the ShopRite recipe library that highlights your brands' products. Shoppers can instantly add the ingredients (and your products) to their digital cart.
8. Online-only Weekly Promotions
On ShopRite.com and ShopRite Mobile App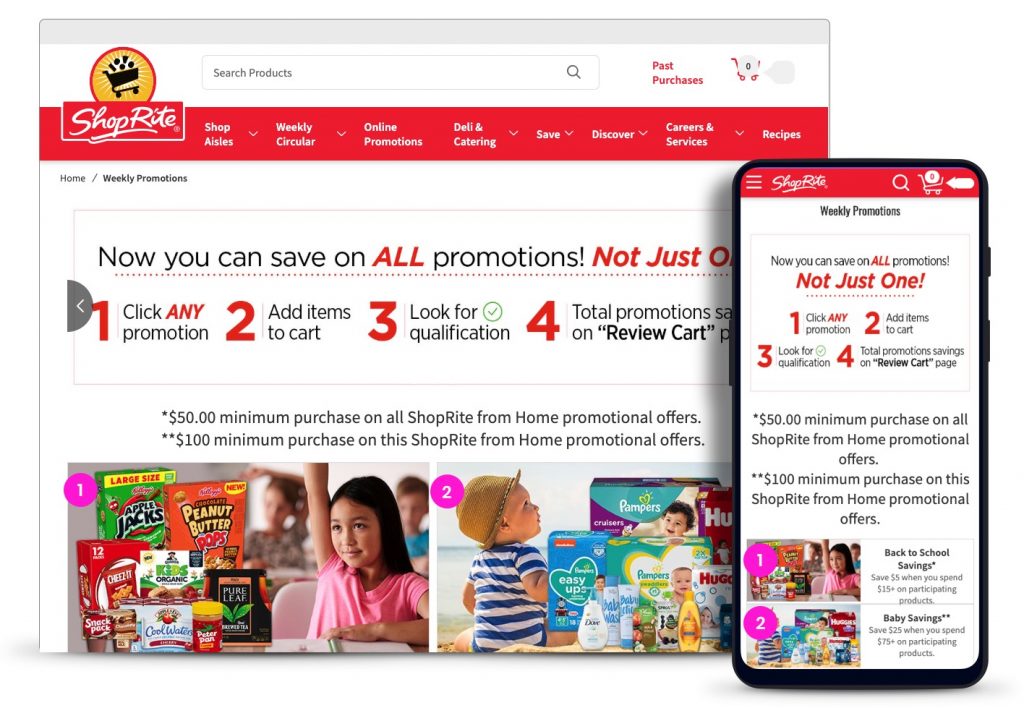 Online-only promotions allow brands to partner in weekly multi-vendor themed and vendor-exclusive events. The promotion will be featured on a splash page, the printed circular ad, the promotions page on ShopRite.com and within the mobile app as well as the Weekly Specials email eblast. Allow for several weeks lead time.
9. Digital Coupon Center
On ShopRite.com and ShopRite Mobile App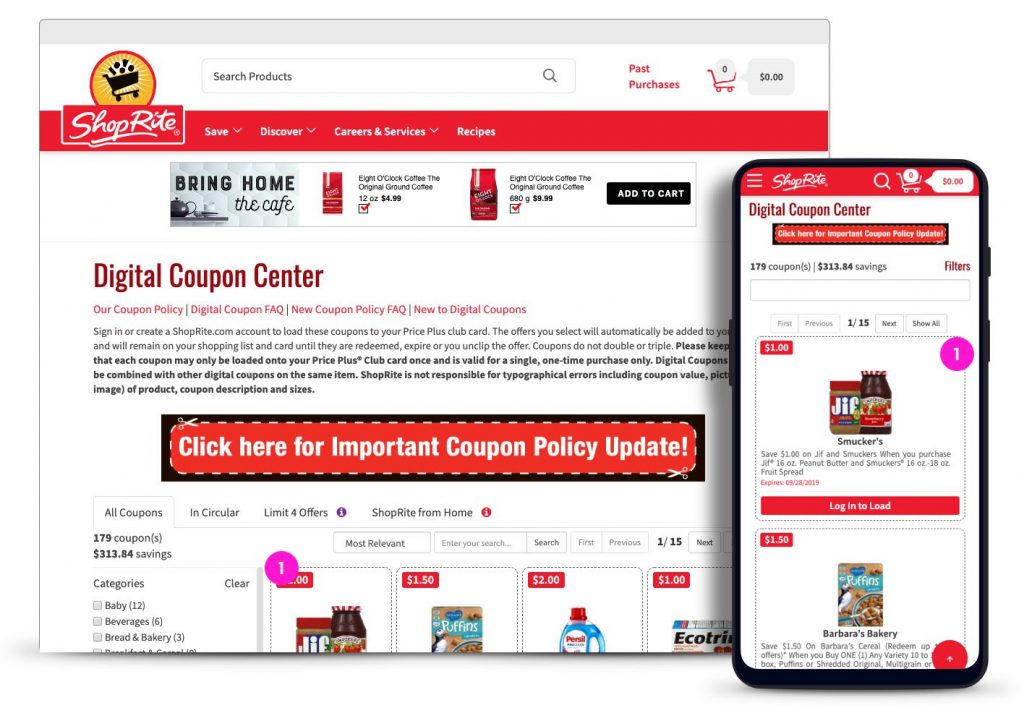 Offer digital coupons available within the shopping experience, on ShopRite.com and within the ShopRite mobile app. Offer standalone digital coupons or as part of themed ShopRite events.
10. Rich Experiences for ShopRite Loyalty Members
Downtime Dollars by Dabbl and ShopRite.
On ShopRite.com and ShopRite Mobile App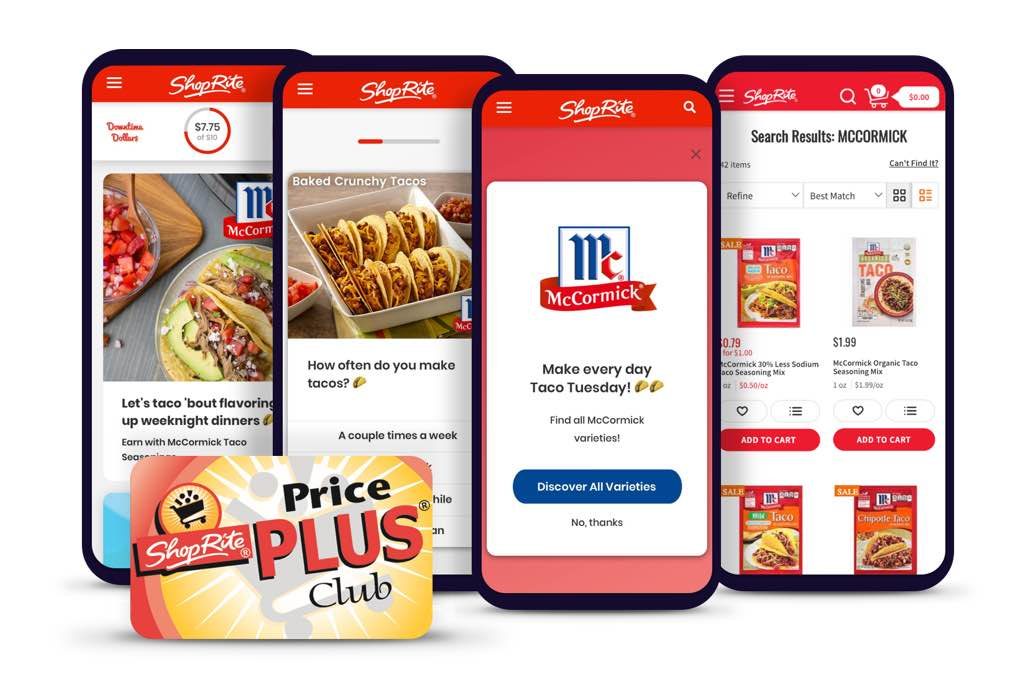 With Downtime Dollars, your brand can spend even more time with ShopRite Price Club Plus loyalty members — more than a minute per brand experience on average versus traditional ads' average of just a few seconds.
Part of what makes this digital channel so powerful is that these loyalty members are earning money on their Price Plus Club cards as they spend time with featured brands. Consumers enjoy spending time with brands like yours.
GSK finds that the brand experience "gives us a forum to share educational messaging with our consumers in a fun and engaging way." Educate shoppers about products, highlight promotions, drive more coupon usage and boost in-store or online sales.
You receive item-level purchase data results for your promoted SKUs as well as available brand studies.

Deeper engagement and measurement for Retail Media ads
Your brand can also combine DowntimeDollars with other retail media advertising options on this list. Shoppers click a banner ad on the ShopRite website from one of the options above which takes them to deeper engagement in a DowntimeDollars brand experience.
This approach can also offer more measurement options including measuring both online and in-store sales affected by this marketing activity.
See how the CitrusAd retail media ad network has partnered with Dabbl to add this deeper engagement and measurement to their Retail Media ads.
What is the brand experience on Downtime Dollars like?
Brand experiences can be a combination of videos, photos, product trivia, offers and calls to action. They take up the full screen real estate within ShopRite.com and the ShopRite mobile app.
Content is often sourced from brands' social media or website content. They are custom created for brands and can be live within hours.
Not sure what a brand experience might look like for your brand? View the Chef Boyardee case study, Bumble Bee® Tuna case study, Butterball® case study or other case studies.)
Or schedule a demo with ShopRite's partner Dabbl to see more.
11. Add Video to Digital Coupons
On ShopRite.com
If you are offering digital coupons and want to give them a boost, add video. The shopper sees a play button on the digital coupon and can play the video.
12. Targeted Email Campaigns
Reach target segments of Price Plus Club members via email. An example case might be to offer a segment of shoppers a digital coupon via email. Consumers click the coupon within the email and sign in to ShopRite.com to access the offer.
OK! So that's 12 digital marketing ideas to reach millions of ShopRite shoppers… And here's a bonus idea:
Bonus: ShopRite.com Landing Page
On ShopRite.com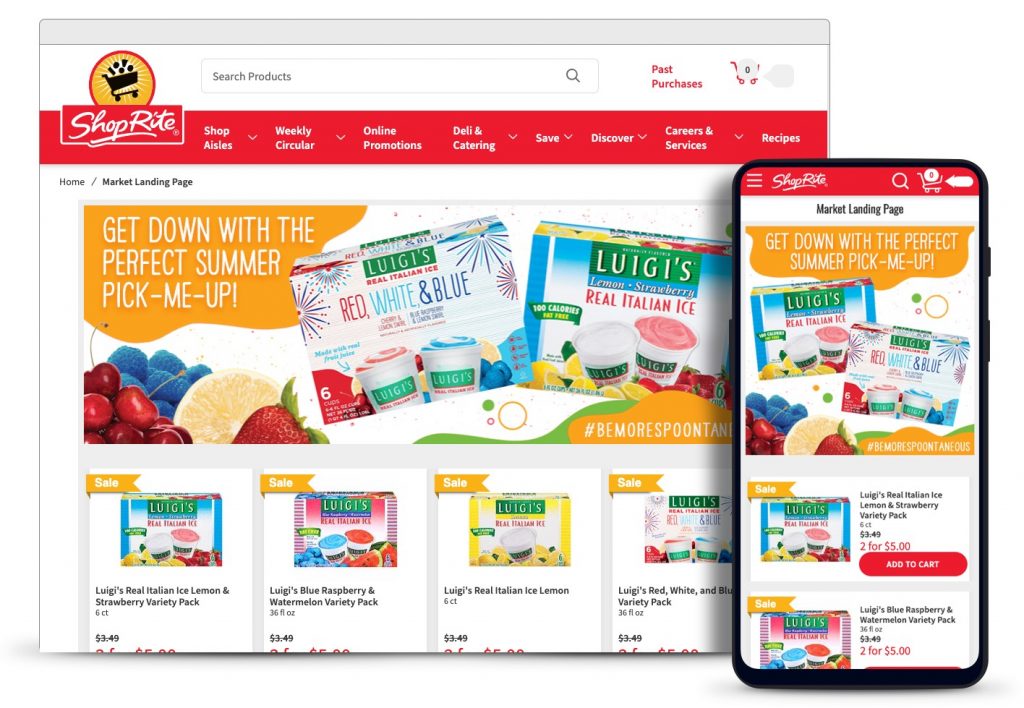 Where do you send consumers who click your ads? One option is a landing page on the ShopRite.com website that features your brands' products. Here is an example ShopRite.com landing page with image and featured products.
Conclusion
So, which ShopRite shopper marketing ideas are the best fit for your brands?
Offer promotions? Run advertising directing consumers to your products and promotions? Launch content that consumers engage deeply with and drive them to sales? Or a combination of these approaches?
Whichever you choose, there are plenty of options to boost sales for your brands at ShopRite.