The Challenge
Bumble Bee® tuna wanted to reach shoppers of a specific retailer and expose them to its new, reboot marketing campaign. And ultimately, they wanted to drive more sales at the retailer.
The Experience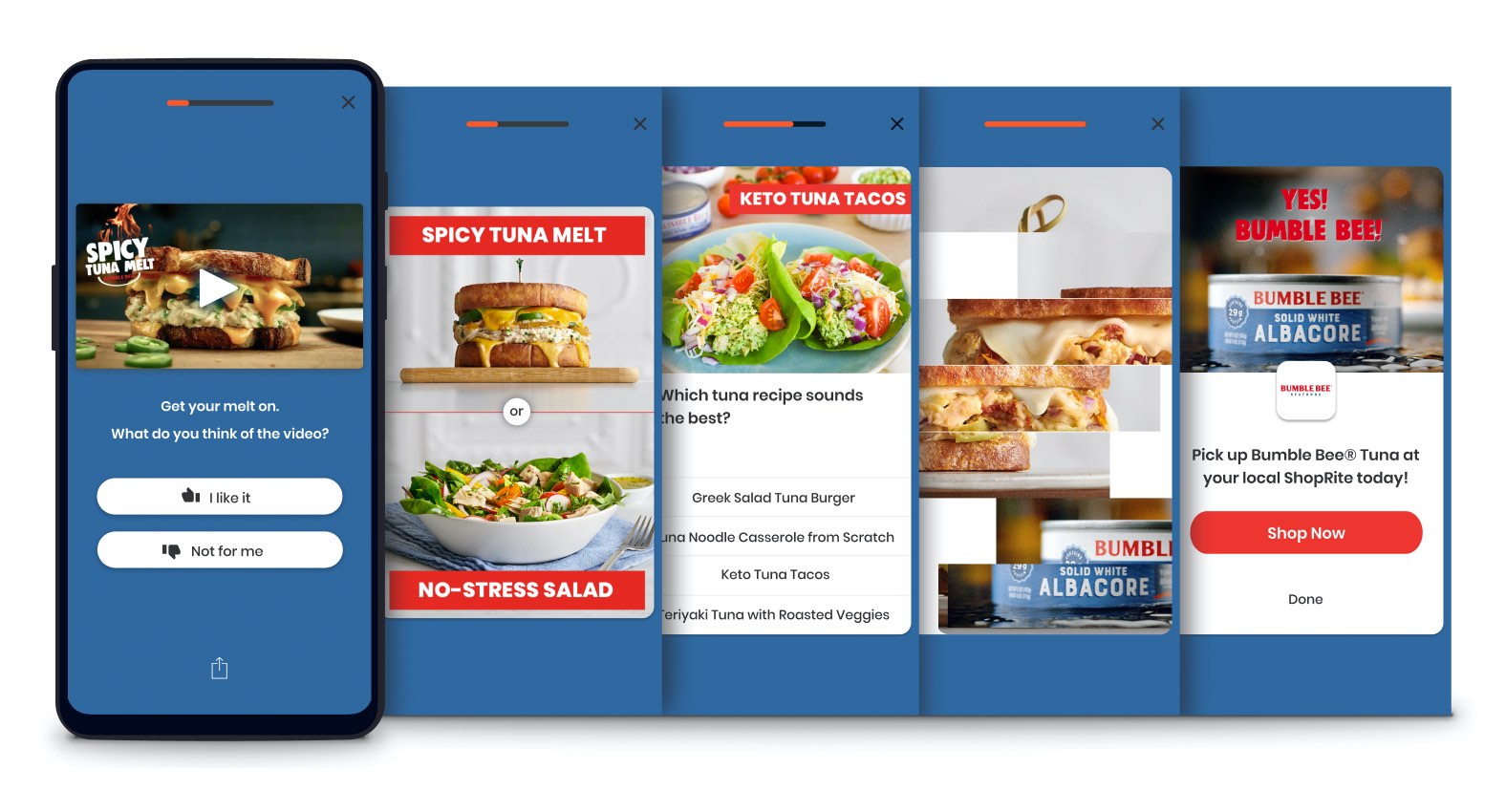 Targeted Audience
Partnering with Dabbl, Bumble Bee® crafted a brand experience designed to solely reach shoppers of the targeted retailer.
The Experience
The Bumble Bee® brand experience was built around the brand's new "Yes! Bumble Bee!" campaign. It highlighted the product's many uses by introducing shoppers to fun spins on regional dishes.
The experience started with a "Get Your Melt On" 15 second video presenting a seriously fancy-looking spicy tuna melt sandwich… "that this guy just made, at home."
The viewer then engaged with image and text based activities -- This or That, Multiple Choice and Puzzle -- selecting their favorites among different Bumble Bee® recipe ideas.
Marketing That's Helpful
As a "thank you" for their time and attention, the shoppers would be rewarded with cash added to their targeted retailer loyalty card. Next time they were at the checkout, they could get a little off the bill thanks to Bumble Bee®.
Finally, they could choose to tap a call to action message to view a website product page or add a digital coupon to their loyalty card with just one tap.
More Info
4 Activities per experience, including Video, Puzzle, Multiple Choice, This Or That activities.
Results
Avg Time Spent
per Experience
Dabbl Avg 42 sec
Click-Thru Rate
To product page & digital coupon
Ad Recall
Exposed vs Non-Exposed
Our promotion with Dabbl was so easy to activate, helping us to extend our brand campaign with an immersive shopper experience for a key retail partner.
Audience of Targeted Retailer Shoppers
Bumble Bee® was able to reach their very specific audience of shoppers of the targeted retailer -- and solely the shoppers of that targeted retailer.
Quality Time
These shoppers spent, on average, 55 seconds engaging in the Bumble Bee® digital experience. These shoppers engaged in the full 4-activity experience which used 100% of their screens. This was not a 2 second advertising "view" that "viewers" quickly scroll past. This was the full attention and engagement of targeted retailer shoppers for nearly a minute.
6.9% Click-Thru Rate
But that wasn't the end of shoppers' engagement with the brand. Bumble Bee® saw a 6.9% click-through rate where the consumer either added a digital coupon to their loyalty card with one tap or they visited the Bumble Bee® product page.
A Good Experience Remembered
All this engagement led to consumers recalling the experience. A brand recall study was conducted two weeks after the completion of the campaign. Bumble Bee® saw a 292% lift in ad recall for those exposed vs those not exposed.
SKU-Level Sales Measurement
It can be tricky -- if not impossible -- for marketers to be able to see the link between digital marketing activities and in-store sales. As a Dabbl partner, Bumble Bee® was able to see anonymized, SKU-level sales at their targeted retailer stores that was directly purchased by participants of their Dabbl brand experiences.
4:1 ROAS
What did it show? All this positive, non-interrupting engagement -- that consumers remembered -- led to sales. Bumble Bee® saw a 4:1 return on ad spend at the targeted retailer.
Bumble Bee® created marketing via Dabbl that was fun and helpful to consumers. It helped consumers discover new recipe ideas and helped them save some money at checkout. And this helpfulness paid Bumble Bee® back with greater sales.