The Challenge
PupJoy answers the question it was founded on, "What if it was easier to treat our dogs better?" The brand delivers an easy-to-use subscription service delivering healthy, sustainable dog products to dog owners. The brand also helps shelter animals find loving homes by supporting over 4,000 rescue organizations. Good for dogs. Good for the planet.
The challenge? PupJoy needed to introduce themselves to more pet-loving consumers and drive traffic to their marketing website for further engagement.
The Experience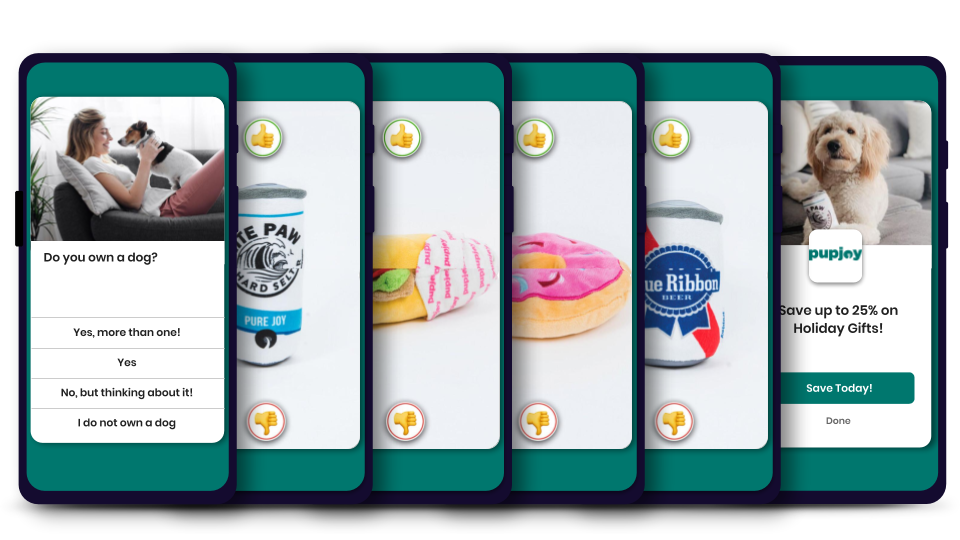 The company that asked "What if it was easier to treat our dogs better?" launched a brand experience that asked, "What if it was easier to treat our advertising audiences better?"
The Interruption Way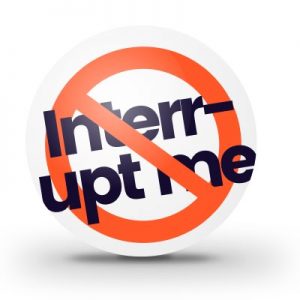 Building brand awareness, building interest and then driving actions like visits to a website often requires a multi-step, multi-campaign process when running traditional advertising.
And when each touch is so very limited, that makes sense. Traditional ads interrupt content, are seen partially for a split few seconds (if not ad-blocked completely), are rarely viewed to completion and are rarely interacted with. You have no choice but to try and try again.
The Dabbl Experience
Instead of interrupting consumers, PupJoy created a brand experience on Dabbl made available to pet owners to engage when it was convenient for them. There would be no interruptions of content.
The Dabbl experience introduced the brand, asked about their pet ownership, showed off products while also registering interest. It also offered a promotion. All of this in a single, fluid brand experience.
The brand experience was comprised of five interactive activities and a special offer call to action. Each of these activities used 100% of consumers' mobile device screens.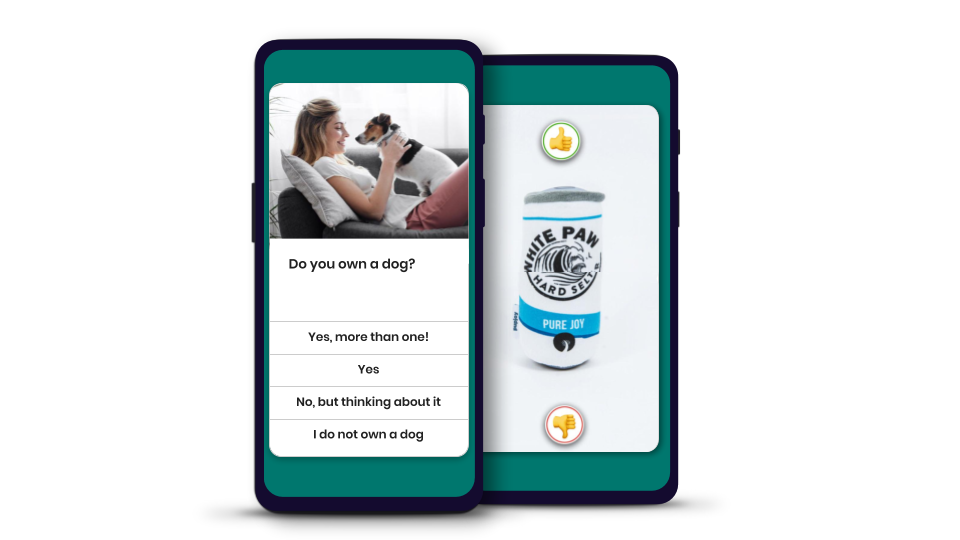 The multiple choice activity asked consumers how many dogs they owned. The "This or That" activities presented nearly-full screen images of fun PupJoy products which consumers rated up or down to continue.
Finally, consumers were presented with a call-to-action screen. PupJoy updated the screen with a special promotion mid-flight to fit their holiday promotional schedule.
More Info
5 Activities per experience, including Multiple Choice, This or That, Call to Action with Offer activities.
Duration: 2 Weeks
Results
20,021
Brand Experience
Completions
100% Viewability & Completion
100,105
Activity
Completions
Fullscreen Engagements
Experience Completions
Of those who started the experience
Purchase Intent Lift
Exposed vs Non-exposed
+75%
Brand Awareness
Exposed vs Non-exposed
Ad Recall
Exposed vs Non-exposed
+44%
Brand Favorability
Exposed vs Non-exposed
Exposed to Dabbl experience
Non-exposed
The Right Context
Pet owners chose to engage with the PupJoy experience when it was best for them. None of the target audience were interrupted.
100% of the pet owners who started the experience saw and engaged with all 5 activity screens and saw the final call-to-action screen. The experience used 100% of their mobile screens.
Brand Favorability Boosted
The PupJoy experience generated a +75% lift in brand awareness, a +44% lift in brand favorability, a +61% lift in ad recall, a +22% in likeliness to recommend and a +32% lift in purchase intent, when comparing those who were exposed to the brand experience to those who were not.
Traffic Driven
The click-through rate ranged from 3.62% to 4.05% depending on the version of the call-to-action offer, averaging 3.88%.
Results Summary
Because these pet owners chose to engage on their terms, they were willing to engage longer and more deeply.
This resulted in pet-owning consumers becoming aware of -- and more favorable toward -- PupJoy. They remembered the brand and the experience weeks later. Some visited the PupJoy marketing website to engage further. And they became more likely to recommend and purchase the brand.